July 11, 2005 -
Good fences make good neighbors: Kevin shows some love!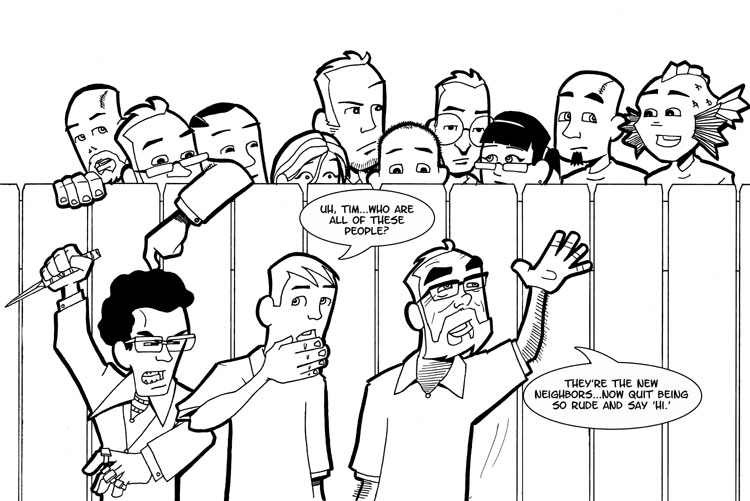 A few weeks ago Digital Pimp was thrilled to have Kevin Gleason and his strip Retail Rage to join our little group. As a thank you he did an amazing drawing of his characters meeting ours for the first time. He's got all the principles in there from our three weekly strips. It came out awesome Kevin, thanks so much.
If you haven't been reading Retail Rage every Monday then you're missing out. Kevin is one of the best writers in web comics. His dialogue in this current arc has been natural, quick, and most importantly ? funny. We're extremely lucky to have him. Read the strip to find out why.
2018 Schedule
Awesome Con
March 30 - April 01
Washington, DC

pimptour
@pimptour
Kylo Stabbed First shirts are 20% off with the code LASTJEDI in the Digital PIMP store. Order by December 8th to ge...
https://t.co/vEzsevBSQ1
27 Nov 2017
Follow @pimptour
Joe Dunn
@joedunn721
@mattsinger
He changes the color of his hat to fit his mood. Like Clementine's hair in Eternal Sunshine.
23 Feb 2018
Follow @joedunn721

Irv Fabor
@irvfabor
5 Tigueres: yellow tail, tuna, salmon, kani, smoked salmon, cilantro, guacamole, pico de gallo,...
https://t.co/vSWMl26TMz
20 Feb 2018
Follow @irvfabor
Kevin Gleason
@retail_rage
19 Jan 2018
Follow @retail_rage