July 11, 2005 -
Good fences make good neighbors: Kevin shows some love!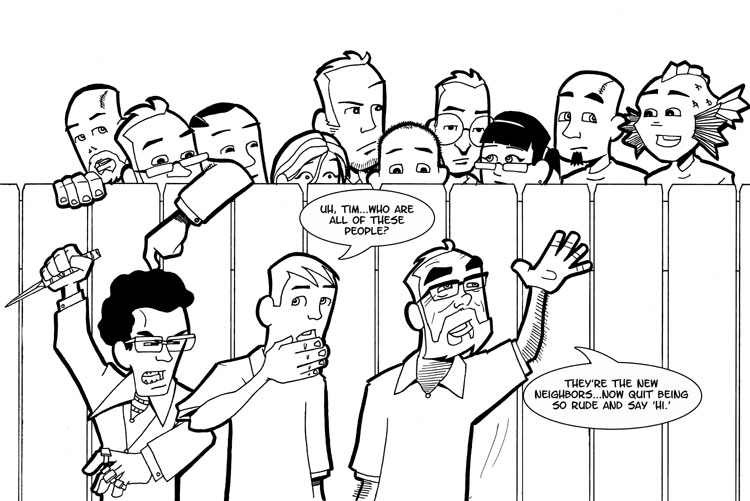 A few weeks ago Digital Pimp was thrilled to have Kevin Gleason and his strip Retail Rage to join our little group. As a thank you he did an amazing drawing of his characters meeting ours for the first time. He's got all the principles in there from our three weekly strips. It came out awesome Kevin, thanks so much.
If you haven't been reading Retail Rage every Monday then you're missing out. Kevin is one of the best writers in web comics. His dialogue in this current arc has been natural, quick, and most importantly ? funny. We're extremely lucky to have him. Read the strip to find out why.

pimptour
@pimptour
Free shipping at the Digital PIMP store all day with code "FESTIVUSMIRACLE" no minimum, arrives by Christmas!
https://t.co/WgmkMR6dn3
16 Dec 2016
Follow @pimptour
Joe Dunn
@joedunn721
LOGAN is both "grizzled, wrinkled, poisoned, and dying" as well as "in better shape than I ever will be" at the same time.
25 Mar 2017
Follow @joedunn721

Irv Fabor
@irvfabor
Trying to salvage a little bit from todays huge disappointments. I did manage to do some artwork in illustrator so at least theres that.
25 Mar 2017
Follow @irvfabor
Kevin Gleason
@retail_rage
RT
@jonahkeri
: I'm sure Paul Ryan can find other super nifty ways to make 24 million people suffer and/or die
24 Mar 2017
Follow @retail_rage