November 26, 2008 -
Girl Trouble
Lady troubles are developing quickly over at Matriculated as Dan (and now Steve) have come to Rebecca for some friendly advice. Poor girl has been stuck on a seesaw since October and is unable to escape their pesky problems. She's having enough ups and downs of her own isn't she?
Catch up at the beginning of the current arc here and see if everyone's favorite bubbly redhead can't help these guys out a little.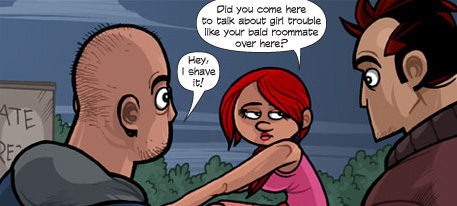 pimptour
@pimptour
Being an exhibitor means having to pee since you moved in, but holding it because you need to set up before the sho...
https://t.co/G3vpx5si1Z
15 Sep 2018
Follow @pimptour
Joe Dunn
@joedunn721
24 Sep 2018
Follow @joedunn721

Irv Fabor
@irvfabor
Just painted for the joy of painting and of course with the purpose of doing it for someone. It is ver bittersweet to have finished it
22 Sep 2018
Follow @irvfabor
Kevin Gleason
@retail_rage
21 Jul 2018
Follow @retail_rage