November 26, 2008 -
Girl Trouble
Lady troubles are developing quickly over at Matriculated as Dan (and now Steve) have come to Rebecca for some friendly advice. Poor girl has been stuck on a seesaw since October and is unable to escape their pesky problems. She's having enough ups and downs of her own isn't she?
Catch up at the beginning of the current arc here and see if everyone's favorite bubbly redhead can't help these guys out a little.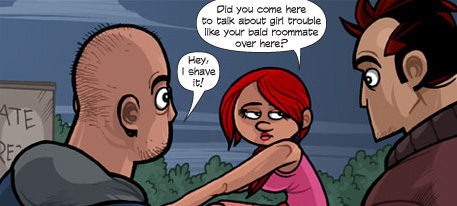 pimptour
@pimptour
Free shipping at the Digital PIMP store all day with code "FESTIVUSMIRACLE" no minimum, arrives by Christmas!
https://t.co/WgmkMR6dn3
16 Dec 2016
Follow @pimptour
Joe Dunn
@joedunn721
LOGAN is both "grizzled, wrinkled, poisoned, and dying" as well as "in better shape than I ever will be" at the same time.
25 Mar 2017
Follow @joedunn721

Irv Fabor
@irvfabor
Trying to salvage a little bit from todays huge disappointments. I did manage to do some artwork in illustrator so at least theres that.
25 Mar 2017
Follow @irvfabor
Kevin Gleason
@retail_rage
RT
@jonahkeri
: I'm sure Paul Ryan can find other super nifty ways to make 24 million people suffer and/or die
24 Mar 2017
Follow @retail_rage