January 31, 2009 -
Printable T-shirt Coupon for NYCC
Before you head out to door to freezing cold New York to attend the East Coast's largest comic/pop culture convention, be sure that print out a copy of the Digital Pimp T-shirt coupon. Bring that flyer to booth 2452 to receive 2 dollars off the price of any of the Digital Pimp T-shirts! Seriously, where else are you going to find a T-shirt featuring a Turtle with a shotgun or a Tiger with a Molotov cocktail?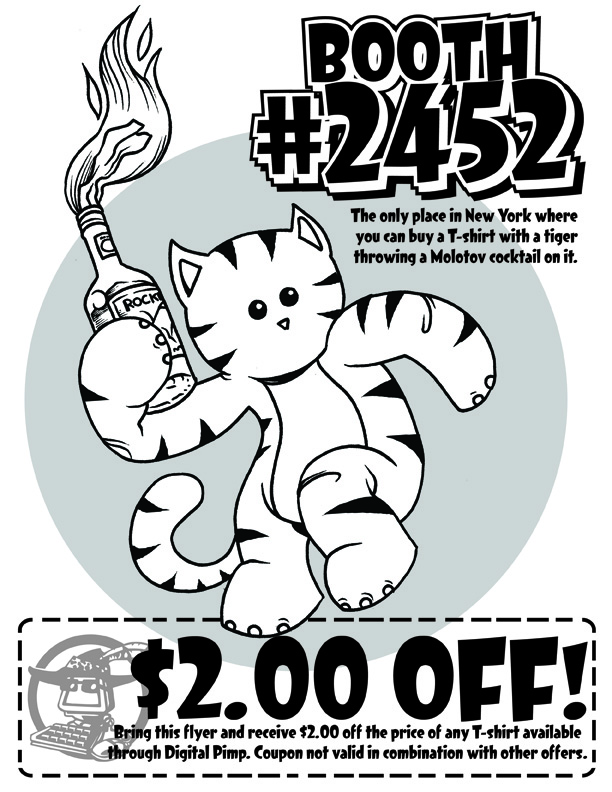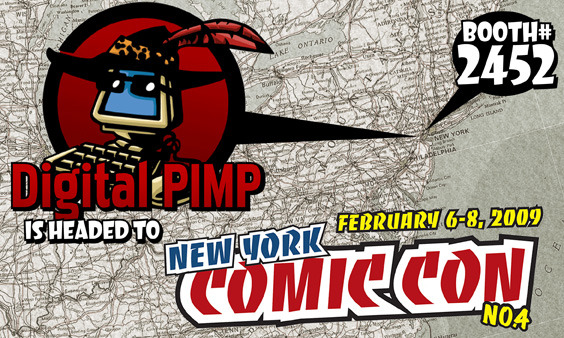 2018 Schedule
Awesome Con
March 30 - April 01
Washington, DC

pimptour
@pimptour
Kylo Stabbed First shirts are 20% off with the code LASTJEDI in the Digital PIMP store. Order by December 8th to ge...
https://t.co/vEzsevBSQ1
27 Nov 2017
Follow @pimptour
Joe Dunn
@joedunn721
@mattsinger
He changes the color of his hat to fit his mood. Like Clementine's hair in Eternal Sunshine.
23 Feb 2018
Follow @joedunn721

Irv Fabor
@irvfabor
5 Tigueres: yellow tail, tuna, salmon, kani, smoked salmon, cilantro, guacamole, pico de gallo,...
https://t.co/vSWMl26TMz
20 Feb 2018
Follow @irvfabor
Kevin Gleason
@retail_rage
19 Jan 2018
Follow @retail_rage