January 13, 2005 -
At a Crossroads (comics)
In other news...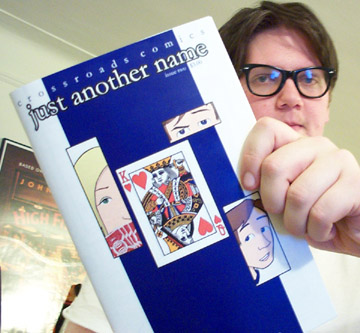 Joe just received, in the mail, his very own copy of Just Another Name #2, the follow up to one of the best indy comics we've ever come across, Just Another Name #1. It's by Kevin Gleason over at Crossroads comics. We all met 2 years ago at Wizard World Chicago and Just Another Name #1 blew us away. Joe says, "There's no other indy writer out there writing a better relationship book. Kevin digs in and connects with something that we all can relate to. That we can all understand."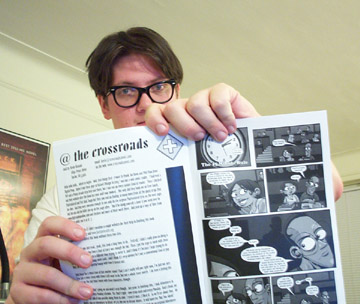 Issue 2 is a fantastic follow up. Funny, sweet, and even educational. Head over to Crossroads and check out the preview. Then do yourself a favor and lay down 6 bucks for two fine fine comics. You'll be getting great books at great prices and supporting a true comic great in his darkest hour.
You see, Kevin's a Packers fan and they just got their asses whooped. He's been weeping uncontrollably ever since.
Just kidding, Kev.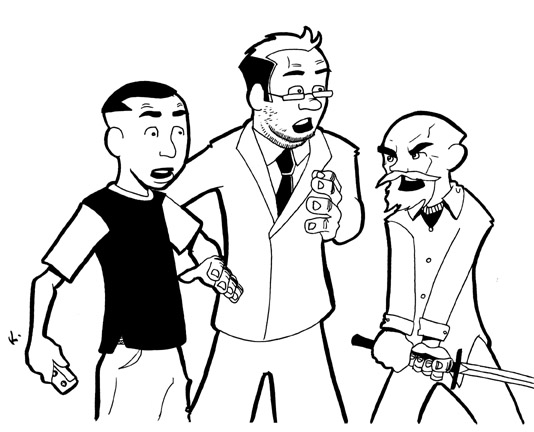 Kevin was also cool enough to include a super cool sketch of the Free Lunch gang. Joe says, "It's so great to see other artists interpretations of your characters. Free Lunch is lucky to have a fan and a friend like Kevin. I'm getting it framed next week and it will hang over my desk forever more."

pimptour
@pimptour
17 Jul 2019
Follow @pimptour
Joe Dunn
@joedunn721
HEAT rewatch - there are many things to love about HEAT. I think my favorite though is that Mann, the master of res...
https://t.co/8SBgaMFG6n
18 Jul 2019
Follow @joedunn721

Irv Fabor
@irvfabor
17 Jul 2019
Follow @irvfabor
Kevin Gleason
@retail_rage
RT
@MitchGerads
: As someone who loves America and the ideals and freedoms it was founded on, I'm having a very real struggle celebrating it...
04 Jul 2019
Follow @retail_rage