February 3, 2005 -
Yir-fan art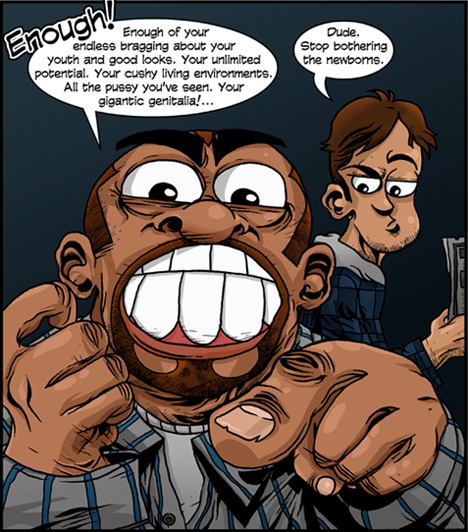 Day four of fan art week does to one of our other cohorts over at PVcomics, a strip by DJ Coffman and Bob McDeavitt called Yirmumah.
This is Bob and Drew, the two main characters of Yirmumah doing what they do best, degrading minors. I mean-- making us laugh. Yirmumah is a breath of fresh air. DJ and Bob aren't afraid of anything and will take shots at anyone in pop culture, all for sake of the laugh. And we're so glad because it couldn't be funnier.
Recently Yirmumah jumped to a daily schedule, which means more fun for everyone! Swing by Yirmumah and stop by the messages boards in Yirmumahville.
2017 Schedule
No scheduled appearances. Check back for future appearances!
Joe Dunn
@joedunn721
Just saw JUSTICE LEAGUE again with my wife and niece and my wife asked a question I hadn't thought of or heard an a...
https://t.co/juqCkTusFV
23 Nov 2017
Follow @joedunn721

Irv Fabor
@irvfabor
A few episodes behind on the gifted but the last episode I watched was a little preachy and melodramatic. I get it,...
https://t.co/heG4tNOUUN
23 Nov 2017
Follow @irvfabor
Kevin Gleason
@retail_rage
20 Nov 2017
Follow @retail_rage