February 3, 2005 -
Yir-fan art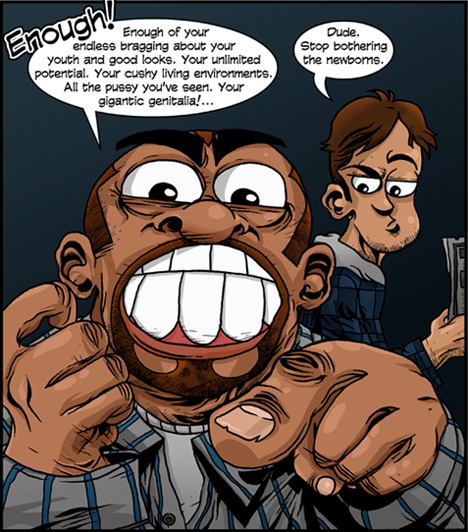 Day four of fan art week does to one of our other cohorts over at PVcomics, a strip by DJ Coffman and Bob McDeavitt called Yirmumah.
This is Bob and Drew, the two main characters of Yirmumah doing what they do best, degrading minors. I mean-- making us laugh. Yirmumah is a breath of fresh air. DJ and Bob aren't afraid of anything and will take shots at anyone in pop culture, all for sake of the laugh. And we're so glad because it couldn't be funnier.
Recently Yirmumah jumped to a daily schedule, which means more fun for everyone! Swing by Yirmumah and stop by the messages boards in Yirmumahville.
2018 Schedule
No scheduled appearances. Check back for future appearances!

pimptour
@pimptour
@joedunn721
Pfft. It's not like it's the Blu-ray, it's just the dvd
03 Dec 2018
Follow @pimptour
Joe Dunn
@joedunn721
@southworth
Even better if there's a hand-sized rip in the wrapping paper. That's asshole 101!
14 Dec 2018
Follow @joedunn721

Irv Fabor
@irvfabor
14 Dec 2018
Follow @irvfabor
Kevin Gleason
@retail_rage
RT
@RacineUnified
: Middle school art students at Jerstad-Agerholm created this BEAUTIFUL tribute to veterans! Each student made a 3D paper...
03 Dec 2018
Follow @retail_rage