February 3, 2005 -
Yir-fan art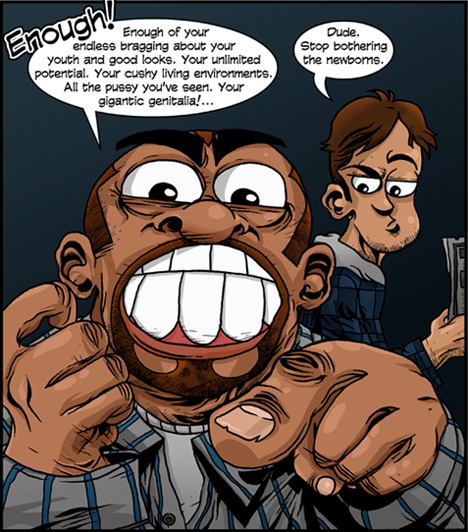 Day four of fan art week does to one of our other cohorts over at PVcomics, a strip by DJ Coffman and Bob McDeavitt called Yirmumah.
This is Bob and Drew, the two main characters of Yirmumah doing what they do best, degrading minors. I mean-- making us laugh. Yirmumah is a breath of fresh air. DJ and Bob aren't afraid of anything and will take shots at anyone in pop culture, all for sake of the laugh. And we're so glad because it couldn't be funnier.
Recently Yirmumah jumped to a daily schedule, which means more fun for everyone! Swing by Yirmumah and stop by the messages boards in Yirmumahville.

pimptour
@pimptour
Free shipping at the Digital PIMP store all day with code "FESTIVUSMIRACLE" no minimum, arrives by Christmas!
https://t.co/WgmkMR6dn3
16 Dec 2016
Follow @pimptour
Joe Dunn
@joedunn721
LOGAN is both "grizzled, wrinkled, poisoned, and dying" as well as "in better shape than I ever will be" at the same time.
25 Mar 2017
Follow @joedunn721

Irv Fabor
@irvfabor
Trying to salvage a little bit from todays huge disappointments. I did manage to do some artwork in illustrator so at least theres that.
25 Mar 2017
Follow @irvfabor
Kevin Gleason
@retail_rage
RT
@jonahkeri
: I'm sure Paul Ryan can find other super nifty ways to make 24 million people suffer and/or die
24 Mar 2017
Follow @retail_rage