Joe Dunn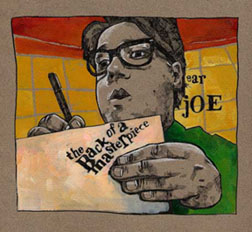 Joe rules. At least that's what he tells people. Joe Dunn, one half of the Digital Pimp team is a graduate of Parsons School of Design at the New School in New York City. He currently lives in Queens with his beautiful girlfriend.
Along with his comic book work here at Digital Pimp Online, Joe is also the artist of Mitch Clem's The Coffee Achievers.
Joe is always looking for feedback of his work. "Love it or hate it I need to know. It's the only way to get better".
So if you?re so inclined you can reach Joe directly here.

pimptour
@pimptour
24 Sep 2017
Follow @pimptour
Joe Dunn
@joedunn721
@Drakmarth
No, that would have made sense. It's a movie called Jinn.
25 Sep 2017
Follow @joedunn721

Irv Fabor
@irvfabor
RT
@MarshallMovie
: Before he made Supreme Court history, he was on a mission for justice.
#MarshallMovie
- In theaters October 13. https://...
25 Sep 2017
Follow @irvfabor
Kevin Gleason
@retail_rage
@pimptour
Where can I get one of these? I need a Phil rookie card!
23 Sep 2017
Follow @retail_rage